INTERNATIONAL SHINTAIDO
NEWSLETTER - JULY 2019
Dear Shintaido Instructors, members of International Shintaido,

This Newsletter will cover a number of important items for our community: Our brand new Code of Ethics, the status of preparation of our International Gasshuku in 2020 in Japan, and more! Keep reading, there is a lot of substance here!

Code of Ethics (COE)

You will find at the bottom of this Newsletter the International Shintaido Code of Ethics as approved by both ITEC and the board (and here is a link to a standalone copy of this document so you can download it or print it separately).

We wish to give you a little bit of history and a few comments about this Code of Ethics.
The principle of a COE goes back to the work done by the Bylaws Committee in 2017. A consensus was reached in the Bylaws Committee that such a COE would be appropriate for an organization like ours. So the principle of a COE, to be written jointly by ITEC and the Board, was included in the Bylaws. This is what we did.

There were many versions before we got to this one and a lot of thinking and discussions took place before we could agree among ourselves and reach a clear majority on the content of this Code of Ethics. Some of this has to do with the challenge of taking into account cultural differences between various parts of the World on how to approach such subject.

Some earlier versions were much longer and more detailed. We decided, for example, to cut out everything which would be generally illegal anyway.

We also shortened considerably the implementation section as it became overwhelming to try to think of all the possible scenarios that may occur and how to deal with each of them. We feel the current language will allow a reasonable and fair handling of any non-compliance case that would be raised.

We discussed whether the code of ethics should also cover in some details the pursuit of excellence expected from Shintaido instructors, but this ended up creating confusion as to what was the real purpose of this document, so we finally went back to a shorter text dealing nearly exclusively with ethics.

Finally, while the Code of Ethics is implementable immediately as a "standard" for our organization, we will not require individual signature at this time and until this Code of Ethics is formally approved by the membership at our 2020 GMM. Meanwhile, we should make sure that people taking exams are aware of it. Also, in this transition period, if you would like to make comments on this COE, please send them to Connie Borden bordensheets@aol.com who will collect and analyze comments on behalf of ITEC and the Board, in preparation for 2020 GMM.

Biwako 2020
Nickname
Biwako 2020 is the nickname chosen for the next International Shintaido Gasshuku which will take place in Japan in the fall of 2020 as we pre-announced in our last Newsletter.
This nickname was chosen by our friends in the Kansai Shintaido group who are preparing this Gasshuku:
Biwako is the name of the Japanese largest lake and the gasshuku place is just next to it (1 min. walk). Biwa is the name of a musical instrument, and ko means lake.
It is a lake shaped like a Biwa.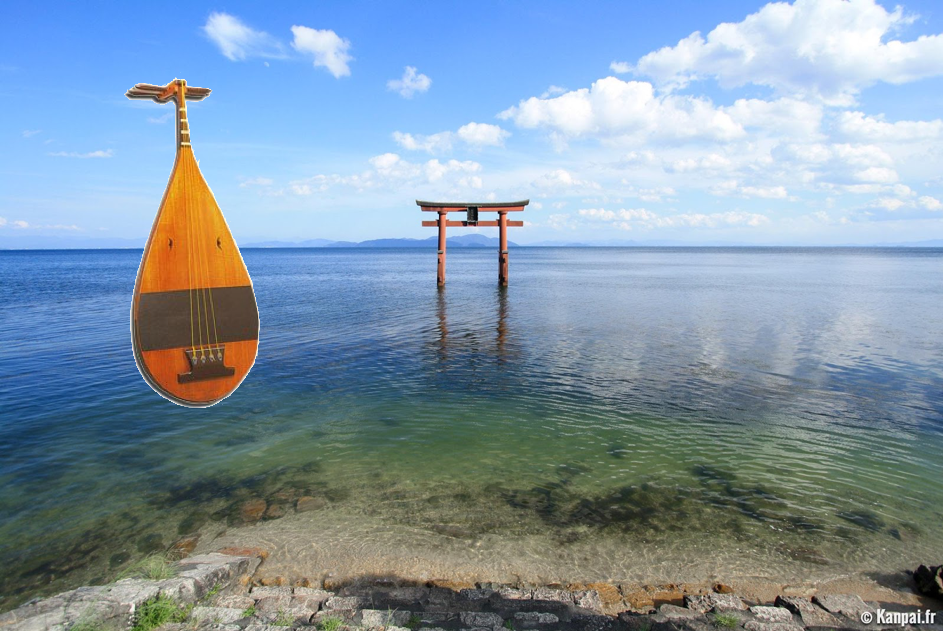 Theme
A wonderful theme has been chosen for this Gasshuku: "和気藹々/Waki Aiai".

"和気藹々/Waki Aiai" describes an atmosphere or a situation where a group of people gather and share joy, laughter, happiness and peace with open-hearts, and its vibrations spread into wider communities, fill and surround the earth and the universe. 

"和気/Waki" literally means "energy of peace and harmony", and "藹々/Aiai" describes trees and plants growing and spreading their leaves vibrantly. The word also implies the importance of "co-existence" and "inter-dependency", not only amongst humans but also with animals, plants and nature.

Of course, more will be said about this theme during the Gasshuku, but we wanted to wet your appetite without waiting!

More information about this Gasshuku
Dates to save : November 5 to 8, 2020

Access through Osaka Kansai International Airport, plus train

Technical Director: Fugaku Ito Sensei

Event manager: Iida Soichiro s_iida@mue.biglobe.ne.jp


This event is open to all members of ISP: shodan / graduate and above.

Tentative schedule:

Thursday evening (November 5, 2020): Dinner and welcome meeting

Friday morning: Advanced keiko 1

Friday afternoon: Advanced keiko 2

Friday evening: Dinner and International Shintaido GMM (General Membership Meeting)

Saturday morning: Examinations (Senior Instructor / San dan and above)

Saturday afternoon: Keiko 3

Saturday evening: Dinner and International Shintaido party / celebration

Sunday morning: Keiko 4

Sunday early afternoon: Lunch and closing. Check out around 15:00 (3:00pm)
Of course, more details will come later, but hopefully this will convince you to put this event on your calendar right now!

We will let you know about the final price as soon as the budget is finalized.

Our plan is to have a dedicated website for this Gasshuku up and running by the end of October 2019 -- one year before the actual event.

2019 dues

A gentle reminder-- if you have not yet paid your 2019 dues, please do so now. Non-members will not receive the next issue of this newsletter !
We have made payments easy for you (PayPal or bank transfer, depending on your country of residence).
Those payment modalities were in the previous Newsletter. If you need them again, just ask: chair@international-shintaido.com , and if you need the document with the 8 good reasons to join, also just ask, and I will send this to you. And in general, any question about International Shintaido: Please ask!

Here is a link to the International Shintaido site with the current list of Instructors who are members of International Shintaido.

Looking for help for our International Shintaido archive projects
Shintaido has had an International organization since 1981. There have been many, many very interesting developments since then, which have shaped Shintaido as it is today. Understanding and having access to this history would be a precious resource for members of International Shintaido -- so much so that our Bylaws actually mention this as one of our missions. The idea is also that we have a continued structured approach to creating , keeping and making our archives available to members.

Pierre Quettier will supervise this work, but he/we need help. If anyone of you or around you has an archivist or historian or librarian background, IT abilities or simply that kind of interest and mindset, please lend us a little bit of your talent and time so we can progress on this project. There is a lot of material available in different places. It needs to be inventoried, classified, selected and made available to our members using today's technologies. If you are not sure about joining us for this, but want to know more first, PLEASE contact Pierre Quettier at it@international-shintaido.com .


"International Shintaido" instead of "International Shintaido Project"
The board has chosen to use the name International Shintaido instead of International Shintaido Project. We feel this is clearer and simpler. ISP was chosen in 2017 to avoid confusion between ISC and ISP. We do not need this anymore today. We welcome any comment you may have. The legal name will not change before approval at our next GMM in 2020.

Upcoming events

If you would like to travel, here are a few events to put in your calendar:
European Gasshuku in Reims (France), from lunch on Friday 1st November 2019, to Sunday 3 November including lunch. This event is open to all Shintaido practitioners in the World, without condition of grade. Link to dedicated website with all the details:
https://esc2019test.weebly.com



Workshop August 17 - 2019 with HF Ito sensei in San Rafael (USA)


Saturday August 17 in San Rafael at Marin Academy - open to everyone. Curriculum: Musoken *please bring your bokutoh. 8am to 10am Keiko, 10:30 to 12:30pm Brunch, 1pm to 3pm Keiko. Cost $100 payable to HF Ito. Sunday August 18: NTC members only.




H.F Ito sensei in Quebec, September 7th and 8th, 2019


The two days will be dedicated to the study of Shintaido Kenjutsu. Saturday, September 7 will be open to beginners and practitioners of all levels.Sunday, September 8 will be dedicated to the advanced practitioners. From 9:00 to 11:30 and 13:30 to 16:00 Saturday and Sunday; Fees for 2 days: $160 CAN. , Fees for 1 day: $80 CAN.The workshop will take place at College Stanislas at 1605 chemin Sainte-Foy, Quebec (Quebec) G1S 2P1.


Prior to the September workshop, you have the possibility to participate in the Master class workshop scheduled on Friday, September 6. This class will be dedicated specifically to advanced practitioners who are interested in the new curriculum of Kenjutsu. As there is a class in the morning and one in the afternoon you may need to check in Quebec on Thursday evening. If you need information for accommodation or transport on site do not hesitate to let us know. For the cost, you can plan to pay $100 US for the teaching and we can share the cost of the room (cost has to be confirmed...)

International Shintaido Instructor's Code of Ethics for Promoting Excellence
Introduction:
A code of ethics is a set of guidelines that are designed to set out acceptable behaviors for members of a particular group, association or profession. Many organizations govern themselves with such a code, especially when they handle sensitive issues that include but are not limited to personal and interpersonal development and interactions with other cultures.
Shared Values Statement
In accepting the membership in International Shintaido, I have responsibility for the transmission and development of knowledge acquired through the study of Shintaido. The role of instructor brings with it very basic personal, interpersonal, and professional responsibilities. International Shintaido is committed to personal development and educational excellence and encourages members to further the search for knowledge and accomplishment. Membership is a privilege and members are expected to demonstrate civility, abide by the highest standard for cooperative action, and adhere to socially and legally permissible behaviors.
Code of Conduct
To teach the kata in such a way that the universal truths they express are conveyed to subsequent generations, just as they were conveyed to me by past generations.

To acknowledge, understand and respect the trust my students, my peers and my sensei have invested in me as a Shintaido Instructor.

To recognize the unique abilities and aspirations of each of my students and to assist them in their practice.

To pursue on my own, a deeper intellectual and spiritual study of Shintaido from a practical, historical and cultural point of view.
Implementation
Possible non-compliance to the Code of Ethics that cannot be resolved by the parties involved may be reported to the ITEC mediator at mediator@international-shintaido.com (confidential). According to the circumstances, the mediator may organize an investigation involving other ITEC or Board members. The goal is to achieve a peaceful and fair resolution to the problem. If non-compliance is established, outcomes range from verbal counseling to exclusion from International Shintaido.
Statement of Agreement
In accepting instructorship, I agree to pursue excellence and comply with the code of ethics and hereby apply for membership in International Shintaido (as per bylaws 4.1.d and 5.1 to 5.3).

With best wishes from the whole ISP board:

You receive this email because you have joined the website newsletter international-shintaido.com With the address pierre@quettier.net.
Unsubscribe to no longer receive emails from us.